Saturday, August 27, 2011 at 10:30PM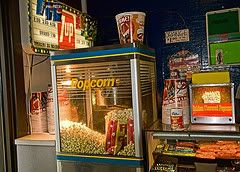 In filmmaker Steve Balderson's Wamego series, it is revealed that audiences at one of his screenings for "Watch Out" started walking out, yelling expletives and throwing things. It wasn't until Beth over at Word Nerd Speaks posted this week's GBE2 topic that I started thinking more about how the action at movie theaters seem to extend from the screen all the way into the seating area and out in the lobby these days. Are movie theater audiences getting out of control or have they always been this way depending on what is playing on the big screen?

The audience reaction that Balderson received during a "Watch Out" screening may be wild but it seems like small potatoes compared to other situations that occurred at movie theaters that put people in danger. In 2010, a Drexel University student was shot during a robbery attempt at The Rave (formerly known as The Bridge Cinema) movie theater in Philadelphia, PA. What the victim thought sounded like firecrackers became the very thing that injured him....all while he was in the lobby of a place that is celebrated as the go-to spot for escape from reality for a brief two hours or so of fun at the movies.
Earlier this year in April, police were searching for a 30-something man who exposed himself to children at a movie theater in Miami. Reports about this incident claim that the man also spoke to at least one of the children, identifying himself as a police officer.....as if these kids weren't horrified enough, now someone is impersonating someone that many children view as heroes?!
As wild as the University City shooting and Miami kiddie flasher incidents are, there is not shortage of jerks who take it up a notch by intentionally harming others. In June 2010, a man who is pushing 40 years of age was convicted of several felony charges after attacking an 81 year-old man in the bathroom of an AMC Movie Theater in Colorado.
These days, there is just as much action in movie theater seats, lobbies and restrooms as there is playing up on the big screen. In a time when people have to pay around $15 to see something like "Harry Potter and The Deathly Hallows: Part 2" or any other film at a theater while risking the chance that they may end up paying $1,500 in emergency hospital bills, credit card charges or identity restoration if a stranger decides to start wilding out in some form during their visit, maybe waiting for the DVD rental is a better (and safer) way to watch new movies.
The other alternative would be to join the crowd of people who have built their own home movie theaters that, while small, provide the cinematic experience without all the hassle of having to encounter rude cell phone users, perverts and criminals because after all, there is no reason to even go to the movies if people leave the theater with more problems than they came in with. Is THIS what movie goers pay $5, $10 and $20 bucks for (plus fees, for those who buy tickets online)? I think not.
Technorati Tags: gbe2, gbe+2, group+blogging+experience, word+nerd+speaks, gbe2+growing+wild, gbe+2+growing+wild, movie+theater+incidents, movie+theater+crimes, movie+theater+shooting, wild+movie+theaters, movie+theater+news